As I was pulling together design inspiration for our future nursery, I found it way easier to decorate a girls room over a boy's room. No idea why, but as soon as I found
this fabric (number 12)
- the entire room took shape very quickly. One disclaimer I feel like I must make: None of these were the final sources - they were just inspiration to get the look and feel I was going for - I had in mind to DIY quite a bit of the room, such as maybe painting cheap Ikea curtains with the ikat pattern, making the crib sheet, researching a DIY light fixture, and of course, creating all the artwork and garlands myself. Oh! And lots of people always ask us what color we - ahem, Mike - painted the walls. the answer is white. Yes, boring - but also gender neutral and we had the paint on hand. Two big bonuses.
With that said, here's the low-down of where we would have been headed had we been blessed with a girly girl.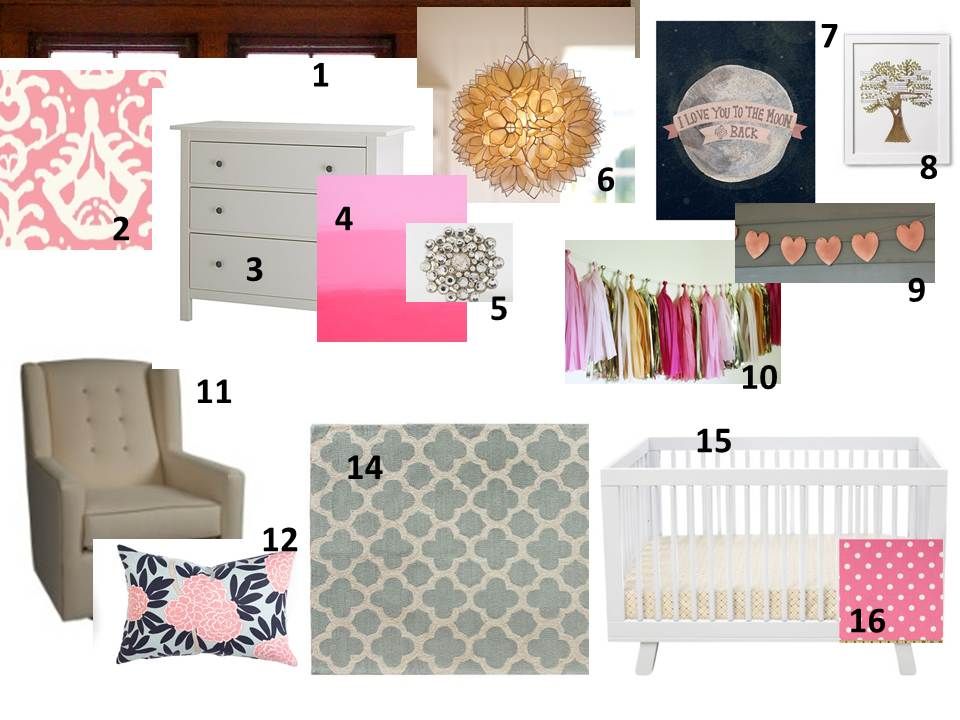 This is a cropped image of the actual wood trim in the room. We have huge wood trim EVERYWHERE in our house and while it's beautiful, it's not as easy to design around as plain white trim. For example - when using the color orange in our decor it makes all the wood look really orangy and ugly - like living in a room full of oompa loompas. Since the room we have for the nursery is tiny (8.5'x9') and has two windows, a closet and the door all decked out in wood trim, I figured I'd bring in a bit of that to the mood board so I'd always keep the color in mind.
Pink ikat curtain fabric from Spoonflower. I'm a bit obsessed with ikat right now and I loved the idea of turning this fabric into curtains for the huge pop of color they bring into the room. But the price on this particular fabric was more than I wanted to spend, and as far as I know Spoonflower doesn't really ever have any sales, so I was planning on researching more for a cheaper fabric option to sew my own curtains, or even attempting to make-over these Ikea Ritva curtains with fabric paint, similar to this tutorial.
Ikea dresser hack. Way before we found out the gender, I started hunting Craigslist for a dresser/changing table for the baby. Everything I came up with that was under $100 was basically a piece of junk. Drawers that didn't open, or drawers that fell off, hunks of wood taken out, yadda, yadda. I'll confess we gave up after going to look at three or four, but it just wasn't worth it to us after a while. So, for $150, I knew we could get the nice 3-drawer Hemnes dresser from Ikea and hack it to make it look much "less" Ikea. We actually did do this for the baby's room - I'll show you our boy version soon.
For the girl's dresser, we planned to paint the drawer faces in ombre pink paint like you see here - but maybe not quite so vivid - while leaving the exterior white.
I also wanted to change the knobs to something super feminine and girly, like these glass and sliver ones.
Love this light from Pottery Barn, but would have had to do way more research on it. It definitely would have been the splurge item in the room, but I had wanted to look into some capiz light DIY's I'd seen floating around the web before making a decision.
An adorable free printable from Martha Stewart. You can just type in your family's names and print it out.
Heart garland that I figured I could easily DIY with some pretty paper and twine.
Tassel Garland. Tutorials for this are everywhere. A quick Google search will bring up more than enough.
Little Castle glider. This is the actual one we went with and while I haven't spent any late nights in it, Mike and I have deemed it pretty comfortable.
The fabric that started it all. But dang gina, that stuff is $60 a yard!! When I first saw it, I wanted it to be our curtains, but clocking in at more than $600 total for curtains that I'd still have to sew myself, I quickly gave up on that dream. I looked and looked online for a knock-off that's similar, but came up empty handed. So I kept it in there for inspiration, and thought I might be able to find a 1/4 of a yard remnant on sale for Etsy or something to make a pillow.
Apparently I can't count, there is no 13 and I don't want to make another jpeg.
RugsUSA.com rug. They run sales all the time at 50-75 percent off. I believe on Black Friday this was $100 for a 5'x8'. Not bad for a thick, plush 100 percent wool rug.
Babyletto Hudson crib. This is the crib we went with too. Love, love, love it! Another Target purchase, although just last week I saw it on sale on Zully.com for just under $300...
Pink polka dot fabric for the crib sheet. I actually can't find the source for this swatch now, but polka dot fabrics are a dime-a-dozen so pick your favorite store and I'm sure they'll have it.
Whew! That's the low-down! Of course, I'm sure it would have changed a TON as the board came to life in the actual nursery - at least that's what I'm finding happening as we work on lil' Wif's room. Creating this and the boy nursery mood board has been the first time I've ever gone through a process like this and while it's kinda time intensive, I'm really glad that I did it. It helped me (and not to mention Mike) visualize what I was thinking and see what things would work and what definitely wouldn't, and gave me a lot more confidence in my purchasing decisions.
Curious if any of you have tried your hand at mood boards?